Addressing health inequalities is at the centre of what we do: finding ways that health services can be shaped to become inclusive and accessible, and working with families to encourage and support them to access those services.  The Breaking Down Barriers network of organisations, working at a grass roots level, is sharing good practice and exploring new ideas to help educate, empower, and provide an evidence base to promote equity of access to mainstream health services.
The Covid 19 crisis has now starkly highlighted health inequalities in the UK and these are also one of the focuses of the Black Lives Matter movement. The Breaking Down Barriers network is well placed and committed to contribute our expertise and support to those who are addressing the same challenges and with whom we share a mission.
'Health inequalities are not inevitable and can be significantly reduced… avoidable health inequalities are unfair and putting them right is a matter of social justice.' 
https://www.health.org.uk/publications/reports/the-marmot-review-10-years-on
Health Equity in England: The Marmot Review 10 Years On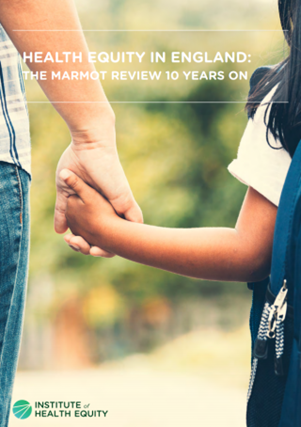 This report has been produced by the Institute of Health Equity and commissioned by the Health Foundation to mark 10 years on from the landmark study Fair Society, Healthy Lives (The Marmot Review).
The report highlights that:
people can expect to spend more of their lives in poor health
improvements to life expectancy have stalled, and declined for the poorest 10% of women
the health gap has grown between wealthy and deprived areas
place matters – living in a deprived area of the North East is worse for your health than living in a similarly deprived area in London, to the extent that life expectancy is nearly five years less.
Download the executive summary here
Download the full report and further information here
Build Back Fairer: The COVID-19 Marmot Review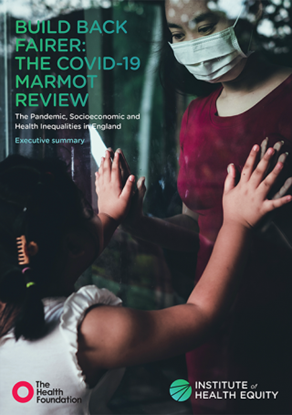 This report has been produced by the UCL Institute of Health Equity and commissioned by the Health Foundation as part of its COVID-19 impact inquiry to investigate how the pandemic has affected health inequalities in England.
The report highlights that:
inequalities in social and economic conditions before the pandemic contributed to the high and unequal death toll from COVID-19
the nation's health should be the highest priority for government as we rebuild from the pandemic
the economy and health are strongly linked – managing the pandemic well allows the economy to flourish in the longer term, which is supportive of health
reducing health inequalities, including those exacerbated by the pandemic requires long-term policies with equity at the heart
to build back fairer from the pandemic, multi-sector action from all levels of government is needed
investment in public health needs to be increased to mitigate the impact of the pandemic on health and health inequalities, and on the social determinants of health.
Download the executive summary here