Haemochromatosis UK are working with Irish travelling communities to raise awareness of genetic haemochromatosis. Diabetes, joint disease and liver disease are major health issues amongst Irish travellers and diagnosis and treatment of iron overload should help to tackle those directly.
In England there are a large number of Irish travellers; estimates vary from people living in these communities. By their nature, this group has difficulty accessing healthcare services. For a traveller suffering with genetic haemochromatosis, the lengthy diagnostic process, and the treatment programme (which requires regular clinic attendance) makes the patient pathway even more difficult. This genetic condition runs in families and is particularly prevalent in the traveller community, due to population migration over the years.
Haemochromatosis UK have produced awareness materials tailored to the travelling community. The materials were designed by members of the traveller community and used images and plain language to explain genetic haemochromatosis.
Haemochromatosis UK received funding from BDB to produce 3000 of these leaflets and they were distributed to groups including Irish in Britain, The National Federation of Gypsy Liaison Groups and Gypsy and Traveller Empowerment (GATE). They also attended Appleby Horse Fair and handed out leaflets in person. During the grant period, 81 local authority site managers across 33 counties and 19 Travelling Liaison Officers had access and used this resource. The charity also had an article published in the Traveller's Times. Since the initial mailout, Haemochromatosis UK has been contacted by liaison officers from different local authorities requesting more leaflets and have seen an increase in engagement on social media.
Haemochromatosis UK then went on to raise awareness of the condition amongst the community and GP practices in the Creggan area of Derry City, County Londonderry where people suffer extensive health inequalities (3.). In Northern Ireland, genetic haemochromatosis is estimated to affect 1 in 113 people, with 1 in 5 people carriers. Yet, fewer than 2,000 were known to the NHS. Haemochromatosis UK received additional funding from BDB to roll out a free cross community screening programme to identify those who have genetic haemochromatosis and to provide advice, support and access to treatment. The project has now been completed and is in the process of being written up ready for publication.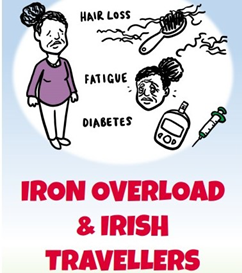 'We now have an additional resource that we know is relatable to the audience it is intended for. The leaflet will stay in our library of information, and we will continue to use this to raise awareness post project.
We now have a database of professionals who are working within the travelling community and have been able to raise awareness to this target audience.
We have built a proactive partnership with BDB during years 1 and 2 and we are looking at how we can continue to work together. This partnership has made a difference to our charity, and we have benefitted from the BDB webinars during the Covid-19 pandemic. Thank you.' Haemochromatosis UK
If you would like to find out more about the work of Haemochromatosis UK pop along to their website: